Experienced Business Lawyer Mississauga
The Mississauga area is among the best places for companies of all categories, and whether you are keeping your existing business, starting a fresh business, purchasing or selling a business, the choices you make now will have a substantial effect on your future success. At Minhas Lawyers, we are aware that the owner of a company does not need to be involved in a commercial disputes. As the owner or the manager of a company, you need to focus on effectively running and building your business in Mississauga area.
In addition, our business lawyers can offer advice when revising leases, buying agreements, and other types of contracts. When your business disputes cannot be resolved by cooperation, Minhas Lawyers offer a wide range of services to deliver aggressive representation in litigation and arbitration.
We are skilled and experienced in all aspects of corporate and commercial law, including:
Acquisitions and divestitures, including share and asset purchases and sales
Business structuring – corporations, partnerships, business trusts Shareholder and partnership agreements, joint ventures and other strategic alliances
Private equity investments, venture capital and angel financings
Project financing Supply, licensing, distribution and outsourcing arrangements and other commercial agreements
Corporate recapitalizations, receiverships and turnarounds
Public/private partnerships
International trade issues
Stock option plans and executive compensation
At Minhas Lawyers Mississauga, we counsel businesses. We recognise the dynamics and needs of your business as we have the capability to reflect on different areas of law from both a legal and technical astute viewpoint, be it a commercial firm, non-profit organisation, general partnership, limited company, limited liability firm, limited liability company or business trust. When you entrust your business to us, we do everything in our power to confirm your plans meet with victory. Our attitude to business litigation is client-focused. With so much on the line, you need a business law attorney who will listen to your story and how you got where you are and where you want to go.
Every case has its own distinctive challenges, which is why our business law attorneys create custom solutions which work for you. We have a formidable reputation for our pro-active approach to business law services.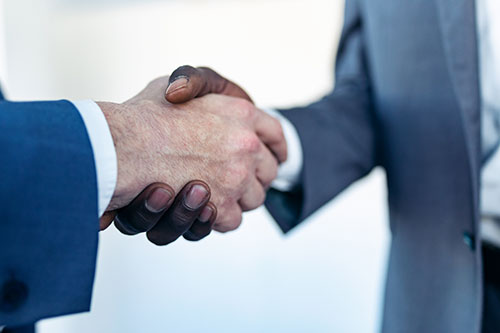 We are known for our inspired and energetic attitude to problem solving offering a personalised approach to every case. No matter the large or small choices you are planning to make, it is vital to confer them with a Corporate Lawyer in Mississauga who is experienced in the art of business law. We pride ourselves in the expert legal help we offer to businesses across Mississauga. With our knowledgeable Corporate Lawyers working for you and your business, you can rest easy knowing the legal worry is on experienced shoulders. If you have any queries regarding any of the services we offer, we would be happy to receive a call from you with questions about how we could still help you.
We are a law firm aligned with your entrepreneurial spirit.
Tailored legal advice is critical to the success of any business. Our dedicated corporate lawyers are responsive to your needs and we provide corporate law advice that is crafted to your requirements.
Surinder Pawar
Had a great experience working with Mr. Minhas
I did my spousal sponsorship through there law firm and his professionalism expertise was amazing an excellent law firm. Many thanks to them, who assisted us. Very professional. Outstanding service. I strongly recommend using their expertise.
Surinder Pawar
Michael Moore
Manpreet Minhas, Rupinder Minhas, and their team were extremely professional and provided great guidance through my entire transaction/matter. They were always very informative and very prompt to reply. Truly felt they had my best interest throughout the entire matter. Would strongly recommend Minhas Lawyers to anyone.
Michael Moore
Jitesh Tandan
Rupinder Minhas is very professional and knowledgeable but more than that he is a very honest person. He handled my estate matter very professionally. I recommend his services.
Jitesh Tandan
Gurdev Gill
Minhas Lawyers are very professional and hold very high standards. This is my 5th year with them. They have helped me in Real Estate, Will and Estate, and immigration matters. Recently they have worked on our family estate matter and we are extremely happy from their services. Top Lawyers. Highly recommend.
Gurdev Gill
Roopa Dittakavi
Manpreet Minhas and his team are very Knowledgeable, Professional and result oriented. Had a very positive experience on a real estate dealing with Mr. Minhas and his team who are focused on details and positive experience for clients. Will definitely use service if needed in future. Thanks and best wishes.
Roopa Dittakavi
Arshdeep Rayat
Very, very professional services. Mr. Manpreet Minhas handled my immigration matter very professionally. Their fees are very reasonable. One of the best lawyers…A++++.
Arshdeep Rayat
Contact Us For
A Case Evaluation

Minhas Lawyers LLP is a multi-practice law firm based in Mississauga. We advise and represent clients across various segments and practice areas.
Business Hours
Opening Days :
Monday – Friday:
9:00 am to 6:00 pm
Saturday - Sunday:
Book Appointments Only